National Police Officers Roll of Honour and Remembrance
In Memory of British Police Officers who Lost their Lives in the Line of Duty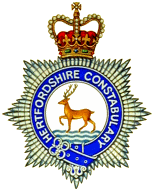 HERTFORDSHIRE CONSTABULARY
and the former constituent forces of
the Parish of Ridge, and St Albans City Police
---
LEST WE FORGET
---
---
SC James Grainge
Died 1 January 1824
Fatally shot attempting to execute an arrest warrant on an armed man.
---
St Albans City Police
---
PWRC
William Patrick Hughes
Died 25 April 1947, aged 41
Died as a result of injury sustained removing obstacles from the road.
---
---
PC John Starkins
Died 30 October 1857, aged 26
Stabbed to death while keeping watch for suspected thieves near Stevenage.
---
Supt
William Pangbourne
Died 6 March 1867, aged 51
Killed returning from a call out in the early hours when his cart overturned.
---
PC Benjamin Snow
Died 10 January 1871, aged 32
Fatally bludgeoned while attempting to arrest a wanted man at Bennington.
---
PC Charles Gorton
Died 16 February 1899, aged 31
Found drowned in a lock at Dudswell probably attempting to rescue a dog.
---
PC Charles Edward Mark Godfrey
Died 12 April 1924, aged 35
Fatally injured when struck by a lorry during a road check at London Colney.
---
PC William Stanley Gatehouse
Died 17 July 1925, aged 39
Fatally injured in a fall off a lorry to which he had been giving directions.
---
PC Reuben Francis Hyatt
Died 24 May 1930, aged 46
Killed on night patrol duty when a lorry skidded and struck him at Wormley.
---
Died 12 December 1958, aged 31
Fatally injured when intervening in a street affray at Hemel Hempstead.
---
PC Arthur William Burch
Died 7 April 1960, aged 38
PC Anthony Richard Silcock
Died 7 April 1960, aged 25
Killed when their patrol car collided with a tanker, pursuing a speeding car.
---
DC Leslie John Bedser
Died 10 June 1966, aged 23
Fatally injured in a police car, which was in collision with a lorry at night.
---
ACC
Ivor Herbert Jones QPM
Died 29 January 1968, aged 53
Collapsed and died of heart failure while on duty at Police Headquarters.
---
PC Colin John Flanagan Roddis
Died 10 September 1973, aged 31
Killed in a collision with a lorry while on motorcycle patrol near St Albans.
---
PC Peter Otto Eykelbosch
Died 9 June 1980, aged 19
Killed when his motorcycle collided with a lorry while reporting for duty.
---
WPC Mandy Dawn Rayner
Died 13 October 1982, aged 18
Killed when her stationary police car was rammed during a vehicle pursuit.
---
PC Francis John Mason
Died 14 April 1988, aged 27
Shot dead when despite being off duty he intervened in an armed robbery.
Posthumously awarded the Queen's Gallantry Medal.
---
Died 6 June 1989, aged 23
Fatally injured in a patrol car crash during a prisoner escort at Harpenden.
---
PC Ronald Raymond Hull
Died 21 November 1989, aged 35
Killed assisting at an accident in thick fog when struck by a speeding car.
---
PC
Kevin John Church
Died 28 June 2005, aged 46
Killed in a motorcycle accident while on a plain clothes policing operation.
Sgt Alan Christopher Lovett
Died 27 November 2006, aged 46
Collapsed and died of heart failure on Custody duty during the early hours.
---
LEST WE FORGET
---