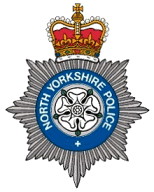 and the former constituent forces of
York City Police and Fire Brigade, North Riding of Yorkshire Constabulary(part).
---
LEST WE FORGET
---
---
P/Fm John Henry Burdett
Died 31 October 1905, aged 48
Died from injuries sustained in a fall fighting a fire at railway premises.
---
---
PWRC William Fowel Simpson
Died 10 June 1941, aged 37
Fatally injured in an enemy air raid, duty status unknown.
---
Sgt Albert Edward Wilkinson
Died about July 1942, aged 49
Collapsed and died, his death being accelerated by air raid rescue work.
---
North Riding of Yorkshire Constabulary
---
Sgt James Weedy
Died 19 September 1890, aged 43
Shot dead attempting to arrest a man he had warned about his conduct.
---
Supt Thomas Deighton
Died December 1919, aged 56
Fatally injured in a motorcycling accident with the County motorcycle.
---
PC George Ernest Lain
Died 16-26 July 1965, aged 38
Took his own life as a result of being shot in the face during an arrest.
---
---
A/DC Norman Garnham
Died 2 March 1977, aged 25
Stabbed to death by a suspect he was attempting to arrest after finishing duty.
---
PC David Ian Haigh
Died 17 June 1982, aged 29
Shot and killed by a suspect he was questioning in the early morning.
---
Sgt David Thomas Winter
Died 28 June 1982, aged 31
Shot dead when he confronted an armed suspect wanted for murder.
---
PC Keith Summerbell
Died 20 September 1982, aged 26
Killed in a collision with a lorry while on a motorcycle training course.
---
SC Glenn Thomas Goodman
Died 7 June 1992, aged 37
Shot dead by terrorist gunmen while checking a suspect car at Tadcaster.
Posthumously awarded the Queen's Commendation for Brave Conduct.
---
PC Robert Michael Ingram
Died 27 August 1993, aged 28
Killed when his patrol car crashed while attending an emergency call.
---
PC Glenn Robinson
Died 27 July 2005, aged 46
Killed in a motorcycle accident while travelling home from duty.
---
PC Andrew Bramma
Died 5 January 2013, aged 32
Killed responding to an emergency call when his vehicle crashed near Ripon.
---
LEST WE FORGET
---