National Police Officers Roll of Honour and Remembrance
In Memory of British Police Officers who Lost their Lives in the Line of Duty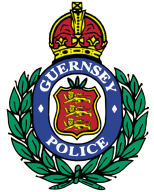 STATES OF JERSEY POLICE
---
LEST WE FORGET
---
George Le Cronier
Centenier
Island of Jersey
Died 28 February 1846, aged 72
While attempting to arrest a woman on a charge of keeping a brothel, she took a
large carving knife off a table and stabbed him in the stomach causing internal
bleeding from which he died the following day.
The woman was convicted of his killing and sentenced to transportation for life.
George had served for 8 years in the honorary office of Centenier and is
one of the oldest peace officers known to have been killed on duty.
Frank John Dutot

Police Sergeant

Jersey Police

Died 28 April 1949
While engaged on crowd control during motor racing on St. Helier, one of
the racing drivers lost control on a bend and his vehicle crashed
into the officer who was fatally injured.
A Memorial plaque was dedicated at Police Headquarters by the Centeniers of
the Island and his colleagues of the Jersey Police Force.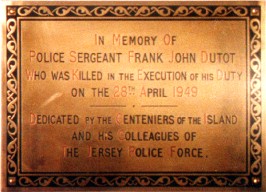 ---
LEST WE FORGET
---