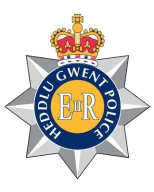 and the former constituent forces of
---
LEST WE FORGET
---
---
PC William Nash
Died 18 August 1855
While on night patrol he accidentally fell into the River Usk and drowned.
---
---
PC Thomas Turner
Died 8 November 1875, aged 43
Fatally injured when attacked by a riotous mob and his leg was broken.
---
PC James Collins
Died 4 October 1930, aged 32
Died of a fractured skull after falling over debris in the police cell corridor.
---
PC Peter Charles John Griffin
PC Hosea Pope
Died 15 March 1960, aged 35
Fatally injured when knocked down directing lorries to a checkpoint.
---
---
Died 14 July 1911, aged 33
Fatally injured when bludgeoned with a stone attempting an arrest.
---
PC William Henry Shapland
Died 27 February 1921, aged 36
Fatally injured while on point duty when knocked down by a motor car.
---
---
PC Adrian Bryn Ellis
Died 27 September 1989, aged 29
Killed in a motorcycle accident while travelling to report for duty.
---
PC Terence John Davies
Died 23 August 1990, aged 34
Fatally injured while cycling home from duty when struck by a stolen car.
---
---
PC Steven Richard Jenkins
Died 6 October 2017, aged 43
Collapsed in a police station and despite resuscitation attempts he died.
---
LEST WE FORGET
---