National Police Officers Roll of Honour and Remembrance
In Memory of British Police Officers who Lost their Lives in the Line of Duty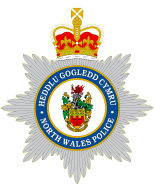 and the former consituent Forces of
Anglesey Constabulary, Caernarfonshire Constabulary,
Denbighshire Constabulary, Flintshire Constabulary,
Gwynedd Constabulary.
---
LEST WE FORGET
---
---
PC William Jones
Died 13 February 1864
Fatally injured when accidentally thrown from a cart while on duty.
---
PC Robert Pritchard
Died 22 November 1924, aged 49
Shot and fatally wounded while attempting to arrest an armed man.
---
PC George Cledwyn Arthur
Died 28 August 1941, aged 29
Drowned trying to rescue the crew of a crashed aircraft from a stormy sea.
Posthumously awarded the King's Commendation for Brave Conduct.
---
Caernarfonshire Constabulary
---
PC Thomas Williams
Died 22 February 1928, aged 36
Died of pneumonia contracted after going in the sea to retrieve a body.
---
Denbighshire Constabulary
---
PC Henry Green
Died 12 April 1863, aged 29
Struck and fatally injured by a man he was moving on at Pentre Broughton.
---
PC John Purcell
Died 24 November 1865, aged 35
Found drowned in the River Ceiriog at St Martins whilst on night duty.
---
Sgt David Lewis
Died 5 October 1916, aged 41
Died from injuries received in 1915 when assaulted during an arrest.
---
Sgt Eric Morris Jones
Died 2 September 1949, aged 44
Drowned in the sea on night duty in unknown circumstances.
---
Flintshire Constabulary
---
PC James Blythen
Died 1 July 1913, aged 36
Fatally injured when he was hit by a motor car while directing traffic.
---
Sgt Robert Roberts
Died 8 September 1949, aged 45
Killed when run over by a train as he kept observations for thieves.
---
Gwynedd Constabulary
---
PC Selwyn Roberts
Died 3 July 1969, aged 37
Killed when his patrol car was in collision with a military vehicle.
---
North Wales Police
---
PC Kenneth Adrian Hill
Died 20 October 1985, aged 21
Fatally injured in a road collision driving to the police training centre.
---
PC Michael Evans
Died 7 January 1987, aged 30
Killed when he lost control of his patrol car on icy roads and crashed.
---
PC Andrew James Harrison
Died 27 October 1987, aged 21
Fatally injured in a road traffic collision returning home from duty.
---
PC Stephen John Tiley
Died 29 November 1992, aged 34
Fatally injured when his motorcycle struck a car while on traffic patrol.
---
PC Ralph Charles Jones
Died 13 July 1999, aged 34
Fatally injured in a road collision on a motorcycle training course.
---
PC Andrew David Parker
Died 23 September 2005, aged 30
Fatally injured in a motorcycle crash while travelling home from night duty.
---
PC Richard Charles Gostage
Died 24 August 2006, aged 46
Killed in a road accident when his unmarked police motorcycle crashed.
---
LEST WE FORGET
---