2004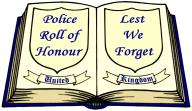 ---
LEST WE FORGET
---
Sarah Jane Minskip

Police Constable

Avon and Somerset Constabulary

Died 4th February 2004, aged 26
The officer finished an extended tour of night duty, after dealing with a prisoner at Taunton, and was travelling home, when her motorcycle was in collision with a vehicle at Ashill and she sustained fatal head injuries.
Sarah was a Probationary Constable with 8 months service, having formerly worked for Somerset Social Services. She had been stationed at Taunton since December 2003.
Sarah was survived by her mother and half-brother and her fiancé with whom she lived.
---
Richard Patrick Gunn

Police Constable

Surrey Police

Died 14th March 2004, aged 29
Killed while responding to an emergency call in Woking, when his police car was in collision with a van at Lightwater, although his vehicle subsequently caught fire he died instantly from injuries sustained in the collision.
Richard had six years police service, he was based at Camberley where he had worked on a targeted patrol team for the last two years and was a respected and popular officer.
Richard was survived by his parents, younger brother, and his fiancée with whom he lived.
---
Garry Alexander Wells

Police Constable

Metropolitan Police

Died 22nd April 2004, aged 47
Whilst undertaking a two day officer safety training course with the Marine Support Unit, he was on the second day of the course when he collapsed and died of heart failure at the training venue, HMS President, St. Katharine's Way, London.
Garry had almost 29 years police service; he was an operational officer and senior training instructor for the MSU stationed at Wapping and was the longest serving officer on the Unit having joined the former Thames Division 24 years earlier. He was involved in Charity work, as a yacht master with the London Sailing Project and a volunteer crew member with the RNLI Tower Lifeboat .
Garry was survived by his wife, his mother and sister.
---
Michael Swindells Q.G.M.

Detective Constable

West Midlands Police

Died 21st May 2004, aged 44
The unarmed detective responded to assist other officers trying to detain a deranged man making threats with a knife in the Nechells area of Birmingham, he chased the man along a narrow canal path and, as he attempted to arrest the suspect, he was stabbed in the heart and fatally wounded.
A 48 year old man was charged with murder but convicted of manslaughter on the grounds of diminished responsibility and sentenced to be detained indefinitely under the Mental Health Act.
Posthumously awarded the Queen's Gallantry Medal.
Mick, a former soldier, had joined the force in October 1990 and was stationed at Queens Road police station in Aston.
He was survived by his wife and a daughter aged 18 years, his parents and brother.
His name is recorded on the Roll of Honour at the National Police Memorial in London and a memorial stone was erected at the scene by the Police Memorial Trust.
---
Mark Leach

Police Constable

Cheshire Constabulary

Died 19th July 2004, aged 38
Killed when his motorcycle was involved in a collision with two other vehicles near Lymm, while returning home to Warrington from night duty at Knutsford.
Mark had joined Cheshire Constabulary in March 2001 on transfer from Staffordshire Police and was stationed at Knutsford on uniform patrol.
He was survived by his wife, a daughter aged 8 years and a son aged 6 years.
---
Catherine Margaret Sutcliffe

Police Constable

Lancashire Constabulary

Died 20th August 2004, aged 34
Collapsed on 8th August while attending a routine incident on duty and was hospitalised until her subsequent death from a cerebral haemorrhage.
Cate had 13 years police service and was stationed at Whalley Police Station.
She was survived by her parents, brother and her partner with whom she lived.
---
Joseph Gerard Taggart

Police Constable

Strathclyde Police

Died 27th August 2004, aged 49
Collapsed and died while on duty within Helen Street Police Office, Glasgow.
Joe had 25 years police service and was highly regarded in his role as the divisional race relations officer.
He was survived by his wife, two daughters and two sons.
---
Derrick Scougal

Assistant Chief Constable

Fife Constabulary

Died 28th September 2004, aged 45
Collapsed and died while on duty in Ayr where he was attending a national police conference.
Derrick was a native of Edinburgh and had studied at Aberdeen University and Oxford before joining Northumbria Police in 1984. He transferred to Fife Constabluary as ACC in charge of all operational matters in 2002.
He was survived by his wife and two sons aged 17 and 14.
---
Paul Linden Owen

Police Constable

West Midlands Police

Died 20th October 2004, aged 47
Fatally injured on 19th October, while on duty attending a local authority community safety meeting, when he was accidentally struck by a bus while on foot crossing the road in Dudley.
Paul had 29 years service and was stationed at Halesowen Police Station where he worked in the community safety bureau as a young persons officer; he was well respected by his colleagues whom he had represented on the Police Federation Constable's Branch Board for 5 years.
He was survived by his wife and 12 year old daughter and two adult sons from a previous marriage.
---
Jonathan Kevin Green

Police Constable

Durham Constabulary

Died 18th November 2004, aged 23
Killed in a road accident while travelling home after finishing duty in the late evening, when his car left the road and struck a tree near Barnard Castle.
Johnny had been appointed to the Constabulary in June 2001 and was stationed at Barnard Castle on uniform beat duty.
He was survived by his parents and younger sister.
---
Kevin Brian Biglin

Police Constable

Suffolk Constabulary

Died 3rd December 2004, aged 41
Collapsed and died from heart failure soon after he became unwell whilst undergoing officer safety training at Lowestoft Police Station.
Kevin had completed eight years service and was stationed at Lowestoft on uniform patrol duties; he had been awarded the Chief Constable's Certificate of Merit in 1999.
He was survived by his wife and son aged 14 years.
---
Valroy O'Neil Hodgson

Police Constable

West Midlands Police

Died 31st December 2004, aged 44
Died as a result of complications of an injury sustained on 12 December during officer safety training at the Police Training Centre in Birmingham.
O'Neil was stationed at Sutton Coldfield; first appointed in May 1988, he had taken a career break between 1990-1993 and in 2002 served with West Mercia Constabulary.
He was survived by his wife and two daughters aged 17 and 10 years.
---
LEST WE FORGET
---