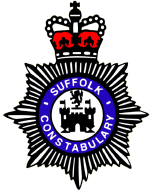 and the former constituent forces of
Ipswich Borough Police, East Suffolk Constabulary,
West Suffolk Constabulary.
---
LEST WE FORGET
---
Ipswich Borough Police
---
PC Thomas Henry Hines
Died 1 January 1903, aged 39
Died from injuries sustained in 1901 trying to stop a runaway horse.
---
SC Robert Anderson
Died 22 June 1940, aged 37
Killed off duty in an enemy air raid.
---
PC Desmond John Fisher
Died 4 June 1957, aged 25
Fatally injured when struck by a car at the scene of a previous accident.
---
---
PC James McFadden
Died 30 July 1844, aged 27
Fatally shot attempting to arrest a gang stealing from a barn at night.
---
PC Ebenezer Tye
Died 25 November 1862, aged 24
Beaten and drowned in a brook attempting to arrest a thief at night.
---
Insp William Reeve
Died 21 September 1904, aged 36
Died from disease accelerated by injuries in the discharge of his duty.
---
PC Ernest William Walter Whiting
Died 10 October 1940, aged 34
Killed by the explosion of an unexploded bomb he was guarding.
---
PC Samuel Doylend
Died 27 October 1940, aged 55
SC Walter Bishop
Died 31 August 1941, aged 52
SC Frederick Kenvyn Hicks
Died 11 October 1941, aged 47
SC Frank Field
Died 15 May 1943, aged 50
Killed in enemy air raids off duty or duty status unknown.
---
PC George William Pretty
Died 24 March 1944, aged 39
Fatally injured in collision with a cyclist while on motorcycle patrol.
---
PC John Reginald McMahon
Died 18 April 1949, aged 26
Fatally injured in a motorcycle crash attending an emergency call.
---
PC Robert P. Allen
Died 13 August 1953, aged 31
Killed when his bicycle collided with trailer while going off duty.
---
West Suffolk Constabulary
---
PC Robert Betts
Died 18 March 1899, aged 25
Found fatally injured on his beat at night in suspicious circumstances.
---
PC Henry May
Died 25 June 1913, aged 54
Collapsed and died of heart failure while he was on foot patrol at night.
---
Insp Ronald Arthur Pooley
Died 10 September 1943, aged 48
Killed when knocked down by a lorry outside the police station.
---
Suffolk Constabulary
---
PC Alan Leggatt
Died 5 February 1969, aged 42
Fatally injured when in collision with a horse while on motorcycle patrol.
---
PC Alexander Clive Negus
Died 27 December 1983, aged 21
Killed by a passing vehicle going to rescue a dog in a road accident.
---
PC Neville Ivor Stackwood
Died 9 May 1984, aged 27
Found dead alongside his crashed motorcycle while he was on patrol.
---
PC Robert John Marshall
Died 4 March 1985, aged 46
Fatally injured in a road accident while riding a motorcycle on patrol.
---
DC Michael John Last
Died 23 September 1987 aged 32
Killed with DC Glister of Norfolk in a road accident while on RCS duty.
---
Sgt John Masterson
Died 26 June 1992, aged 46
Collapsed and died on motorcycle escort duty during a royal visit.
---
PC Kevin John Clarke
Died 27 May 1993, aged 23
Killed in a road traffic accident while going off duty.
---
DC Clive Neville Barratt
Died 28 July 1999, aged 35
Fatally injured in a motorcycle accident whilst on surveillance duty at Lowestoft.
---
PC Peter Charles Evans
Died 24 February 2001, aged 33
Killed in an armed response vehicle, which crashed in the early hours.
PC
Kevin Brian Biglin
Died 3 December 2004, aged 41
Died of heart failure after becoming unwell during officer safety training.
---
PC
Cheryl Rosemarie Lloyd
Died 18 June 2005, aged 42
Killed when her patrol car crashed while attending an urgent call.
---
LEST WE FORGET
---