POLICE SERVICE OF NORTHERN IRELAND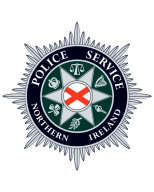 ---
LEST WE FORGET
---
Const George Doogan Haslett
Died 10 June 2002, aged 51
Collapsed and died on duty while training in the police station gym.

---
Const Richard Francis A. McAuley
Died 20 June 2005, aged 34
Killed in a motorcycle accident while travelling home from night duty.
---
Const Siobhan Mary Majella McCann
Died 10 July 2005, aged 41
Fatally injured when her police vehicle went out of control and crashed.
---
Const Colin William Niblock
Died 25 September 2005, aged 38
Killed in a road traffic accident while travelling home from night shift duty.
---
D/Const Robert Victer Shiels
Died 7 June 2007, aged 45
Collapsed and died of heart failure in the CID office at Downpatrick Station.
---
D/Const Paul McLea
Died 19 October 2007, aged 45
Died as a result of an accidental injury sustained while in his office in Belfast.
---
Const Kevin Declan Gorman, 24
P/T Const Declan Greene, 39
P/T Const Kenneth Thomas Irvine, 30
Const James Robert Bawn Magee, 27
Died 23 November 2008
The officers died together while responding to a call for assistance from other officers in the early hours when their police vehicle crashed in County Down.
---
Const Stephen Paul Carroll
Died 9 March 2009, aged 48
Shot dead by terrorists when responding to a call for help in County Armagh.
---
Const Gareth Gallagher
Died 17 May 2010, aged 22
Died after a road traffic accident whilst travelling to report for duty at Strabane.
---
Const Gary John Leslie Grieves
Died 14 August 2010, aged 46
Died after the collision of a car and his motorcycle travelling home from duty.
---
Const Ronan Padraig Kerr
Died 2 April 2011, aged 25
Killed when a bomb exploded under his car outside his home in Omagh.
---
Const Philippa Reynolds
Died 9 February 2013, aged 27
Killed when a police car was struck by a stolen vehicle in Londonderry.
---
LEST WE FORGET
---